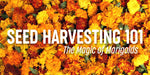 Harvesting Marigold Seeds: A Step-by-Step Guide
One of the best things about Marigolds is how easy it is to harvest their seeds for future use.
1: PRIOR TO HARVESTING, MARIGOLD BLOOMS MUST BE DRY
It's very important to harvest Marigold seeds at the right time. Waiting too long – when the blooms are completely brown - can cause the seeds to starting rotting or producing mold; but seeds harvested too early might not be fertile. Plan on harvesting seeds when the Marigold blooms are dry at the base and are just starting to turn brown at the tip. If the base of the bloom still has a little bit of green, that's OK. If your blooms look ready; simply remove each one from its stem.
STEP 2: GENTLY OPEN EACH MARIGOLD SEED POD
Working on a flat surface; hold the base of each bloom and remove the leaves and petals. These can be thrown away; we will not be harvesting this part. Once these have been removed, open up the pod and you will see all of the little seeds inside attached to the base. Transfer all of the open pods to a plate or a paper towel and set aside.

STEP 3: REMOVE THE SEEDS
Marigold seeds are long and thin; are dark on one side and lighter on the other.

Take each pod, and remove the seeds from the base by gently pulling. Once all of the seeds are removed from the pods, spread them out on a paper towel and discard the pods.

STEP 4: DRY DRY DRY
In order to store Marigold seeds and to ensure they won't go bad, they need to be completely dried out. Place seeds on an uncovered paper towel on a counter and allow to air dry. They should be ready to be stored away in about 7 days.

STEP 5: STORAGE
Once your Marigold seeds are dried out place them in a paper envelope. Paper is ideal for storage as using plastic bags can allow the seeds to retain moisture which will ultimately make the seeds go bad. Don't forget to label each envelope if you had multiple varieties of Marigolds so you know what to expect next season. These envelopes should be stored in a cool dry place until ready to be planted.

TIP: If you had an abundance of marigold seeds; decorate the envelopes and give some seeds away as gifts!